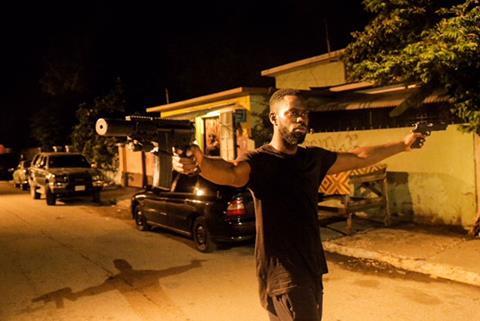 Nicky Slimting Walker and Femi Oyeniran have re-teamed to write and star in the prequel following their 2016 feature The Intent, which they self-financed and self-distributed in UK cinemas before landing a global streaming deal with Netflix in May last year.
Adam Deacon (Kidulthood), Ashley Chin (Starred Up), Sharon Duncan-Brewster (Top Boy) and Dylan Duffus (Line Of Duty) star in the second film alongside notable figures from the UK grime music scene including Ghetts and Krept & Konan, rapper Fekky and dancehall artist Popcaan.
The prequel shot in London and Jamaica and is being slated for an autumn 2018 release in the UK and Ireland. We're thrilled to team up with Island Records to market and distribute the title and the companies are planning a theatrical release. Island also financed the production of the sequel.
In The Intent 2: The Come Up, Jay (Ghetts) finds his ambitions crippled by his allegiance to both his crew and Hackney crime boss Beverley (Sharon Duncan-Brewster). He sets about laying the foundations for his own organised crime ring with the help of Mustafa (Adam Deacon), but an ill-fated robbery in North London and a trip to Jamaica threatens to tear the crew apart.
Rupert Preston, Vertigo Releasing, commented: "This is all set to be one of the most exciting and commercial UK independent movies of the year. We can't wait to build upon the grassroots success of the first film and launch this film into cinemas all across the UK in the autumn. Working with Nicky, Femi and the whole Island team is what independent film-making and distribution is all about."
Nicky Slimting Walker and Femi Oyeniran added: "It has always been our dream to work with a record label as we've always believed they have more understanding of the commercial potency of Black British culture. Island's history made them a perfect home for us. To be able to team up with Vertigo who have brought us some of the most successful home-grown films in the past decade makes this a winning combination."
Darcus Beese, Island Records added: "We are really excited to be in business with Nicky and Femi, these guys have made a dope film and we want to help them bring it to as big an audience as possible. With the new Urban Division under Alex Boateng, Island is looking to be involved in, and to effect, the culture in new ways and this film gives us the opportunity to be a part of the film making process and to shine a light on the incredible talent, writers, director and, actors in this country."